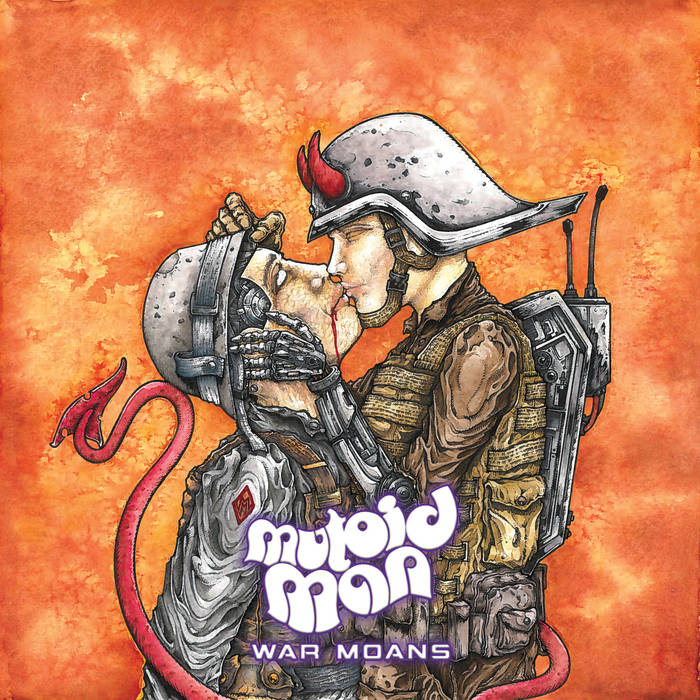 Band:Mutoid Man
Album:War Moans
Best song:"Melt You Mind" and "Wreck and Survive"
Worst song:the song itself is good, but the lyrics to "Date with the Devil" are kinda dumb.
Genre is a tough thing to tackle and it is a deeply ~inside~ experience as you get into it more. The dumb copout "I listen to all types of music" is kind of silly and a shorthand for a certain type of idiot, but it rings true for most of us. If I want to tell someone what I listen to, should I send them to my Last.fm list? How do I describe post-rock to someone who doesn't know what that is? Is it cool to say I listen to folk music when I listen to Chelsea Wolf and Emma Ruth Rundle? Is Thou death metal or death doom or something else?
Which is to say: I cannot make heads or tails of whatever genre Mutoid Man puts itself into or what fans of the band call them. I used to tell people that Mutoid Man is the only punk band I like, but that sounds incredibly pretentious and is probably misleading. I don't know.
Because punk rock, insomuch as genre matters, has a sonic flair of simplicity and eschews guitar solos. Stephen Brodsky may not play within the traditional guitar solo structure, but he's a guy who absolutely loves to rock out; the run up and down the neck on "Kiss of Death" is solo-adjacent, though a riff. The intro to "Afterlife" is similarly solo-esque, though the riff itself metastasizes into something more urgent.
Ultimately, the punk rock speed of War Moans is the thing I keep coming back to. While the record has its relaxed, contemplative moments, it relies on Brodsky's seemingly in-danger scream/singing, his/Nick Cageao's guitar/bass runs up and down the necks and, of course, Ben Koller's frenetic drumming. The punk comes in that vein, though, again, it's way too complex to sit in the same genre as classic – and poppier – punk rock. Which isn't to say that War Moans isn't a delightfully melodic record. The album begins on a running start with "Melt Your Mind," a singable romp propelled by Koller's rolling bass drum work. "Open Flame" has vocal harmonies aplenty and "Irons in the Fire" is a sing-song romp. "Wreck and Survive" featured Wolfe in a bridge-lead and backup vocal position throughout the song, which is arguably the strongest track on the record (lead by feedback, harmonics and emotion).
Up and down, it's a terrific record. It's the band's best, drowned in sound and bursting with insistence.