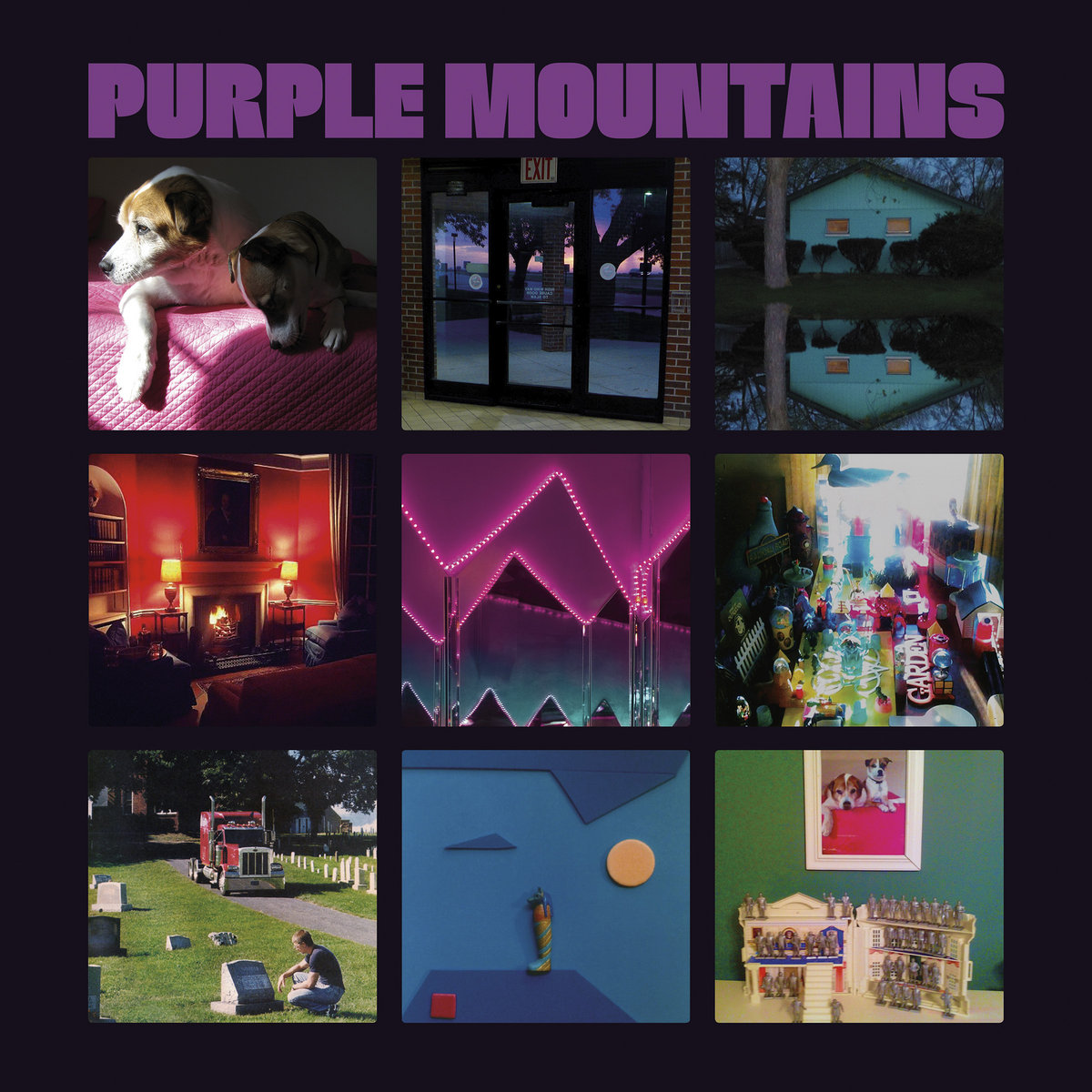 Band/Artist: Purple Mountains
Album: Purple Mountains
Best song: "Margaritas at the Mall," hands-down. It's one of Berman's best songs in his catalogue.
Worst song: "Maybe I'm the Only One for Me" is a good song, but the record's weakest.
In the Conservative American Judaism I grew up with – even the different branches of Judaism, each is hardly a monolith – there is a set of prayers that are essentially blessings that one says to
start the day or start a morning service
. They are called Birkhot HaShahar (ברכות השחר), or the blessings of the dawn. There are 10 of them and I was taught that they are meant to begin the day in a thankful and meditative mood. They're pretty standard things for anyone even remotely familiar with religious practice. There's thanking God for making us in his image. There's one thanking God for freeing the bound. There's one thanking God for differentiating the day from the night.
And there's one that literally thanks God for "not making me a woman."
—
This past week week marked the anniversary of my first of two trips to Israel in consecutive years at the age of 37. It came about two decades later than the usual American Jew's visit to Israel – as the guards at Tel Aviv's Ben-Gurion Airport were quick to ask me about – but I went nonetheless. I didn't go on Birthright like my sister and some of my Jewish HS friends because I wanted the conflict to "calm down," plus my sister told me that I wouldn't like the military propaganda that the trip – funded by the increasingly militarized Israeli government and a truly nutty group of American Jewish philanthropists and organizations – provides. So, I didn't go when I was supposed to go and the clock ran out on my so-called free trip.
I decided to go on a self-directed trip to Israel 2018 for a variety of reasons. I'd been to Italy twice as an adult; first to Rome to see the ideological basis for one side of my heritage (and American civilization, to be honest), then to Sicily to see the home of my more-recent ancestors (my paternal side of the family came over to the U.S. in th early 20th century). I wanted to do the same with my maternal heritage, though not within the structure of the nomadic Jews that my mom's family was. Rather, I would go see the long history of Judaism in Israel. I love old shit, too, so I wanted to check out the oldest shit available, including the city where the most-important figure in the West was tried and killed.
What ended up happening is a little more complicated than that.
—
Many years ago during my childhood, one of my much-older relatives (older than my parents) said something about Israel that stuck with me. He said that being in Israel, he felt "at home" and the other old Jews present at my great aunt's and uncle's – the matriarch and patriarch of that side of the family – seder nodded in agreement and rumbled that it was true.
I stored that away for years and have thought about it since. I'm not unique among American men of a certain age in that I've felt ennui about my place in the world; I've had my struggles with emotional health and I wrestle with the realization that I missed the window to be someone hitting the marks that come with adulthood. Similarly, I often feel out-of-place in the United States; here in D.C., I feel like I'm not educated enough, I'm not fit enough, I'm too old, I'm not worldly enough. In the non-D.C. places, I feel like I'm a coastal élite; constantly railed against by the most-watched cable network and by elected people in the ruling party of my homeland. Being a religious minority raised in an interfaith household (my dad is not Jewish), I often felt a little out-of-place within Jewish communities.
(I should note: this is mostly the world's tiniest violin I'm playing here. I am white, I am a man and being a coastal élite is hardly a knock to anything other than my fragile perpetual adolescent ego. I grew up in relative affluence and was handed pretty much anything I wanted. The goal-based and material things I did not achieve were not because of any structural disadvantages I faced, but rather because I was hamstrung by my own shittiness. There are people in the U.S. who are actively facing structural and governmental discrimination and I am not one of them. Lou Dobbs talking shit about the media is hardly a cross to bear, however much my dumb ass may see it that way sometimes. I'm largely talking about being within my own head, which is what I do in this space. As I've written before, feel free to stop reading. I would if I were you.)
I didn't feel as though Italy – be it within the city from which my family emigrated (Caccamo), the biggest city on the island (Palermo) nor Rome – was "home," but I've also never felt particularly of my Sicilian heritage. It's a huge part of my heritage, it's in my name and it's part of so many customs which with I grew up. But I am undeniably American and that feeling is abundant when I've been to Italy.
In order for that feeling to be a part of landing in Israel, I would have to feel undeniably Jewish and that's not something I wouldn't have used to define myself. Until about 2015, actually.
The 2016 election cycle saw the rise of antisemitism toward journalists in a way that had not been seen in years. I didn't get much of the harassment that my actual famous journalist colleagues got, but the entire 2016 election cycle involved blatant anti-semitism from candidates (Ted Cruz talking about Trump's "New York" values, Steve Bannon's antisemitism, Trump's "Sheriff's star" incident, the whole emergence of Richard fucking Spencer, etc.). I always knew, inherently, that there was something always in an undercurrent; I grew up in Cook County during white nationalist Matt Hale's fringe import to the community and I had read Leonard Zeskind's Blood and Politics. I have always been fascinated by the white nationalist movement largely because it was taboo. I always wondered how people could operate outside of the usual shame-based structures that didn't let people actively practice white nationalism. That changed during the Obama years, with racism rearing its head in many ugly ways and the stigma of public shame pretty much going out the window. So, I started to feel Jewish again because I feared that people were going to see me that way anyway. And I wanted to think about what it means to be Jewish, even if I'm not a particularly strong believer (I'm more of the "I don't know" notion than anything else) and haven't been in a long time.
—-
So, I went to Israel. I spent a little over a week there in 2018 and did a lot of the typical tourist things (swam in the Dead Sea, walked Masada, stuck a note in the Wall, etc.) and did some not typical tourist things (I took a tour of occupied Hebron in the West Bank led by a Palestinian and I rented a car to see a little-attended national park with catacombs that once contained the remains of diaspora Jews in the late Sanhedrin period). I got lost in West Jerusalem near the Knesset and was reminded of the brutal Israeli government and I met with lovely people from Tel Aviv. I took buses that contained soldiers with giant guns on them and I got lampooned in a town called Bet Shemesh. Mostly, though, I felt really alone and I felt really Jewish. I resolved to correct the former and embrace the latter.
I started to look into getting more involved in one of the local synagogues, Sixth & I. The synagogue's head rabbi, Rabbi Shira Stutman, is a unique person in that she's fomented a nontraditional and non denominational congregation in the heart of a city full of young transplants. Unlike most of the synagogues many American Jews know and grew up with – suburban, emphasis on young families and old people, dependent on the federation system, etc. – Sixth & I is more reliant on D.C. transplants in their 20s and 30s.
She spoke about it on the Judaism Unbound podcast this year: